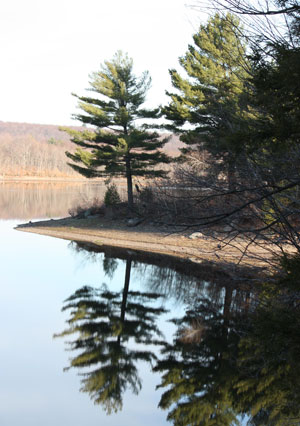 Swinging Bridge Lake is also a reservoir and is approximately 9 miles long. A dam at the southern end of the lake generates hydroelectric power. Boats are not allowed to get close to the dam at that end of the lake.
Elevation: 1,069 feet
Surface Area: 889 acres
Shore Length: 17.6 miles
Max Depth: 120 feet
Mean Depth: 38 feet
The reservoir is normally held about 5 feet below the full pool elevation, or 1065 feet through the months of May to November, then lowered to 1050 through the winter to provide storage for the heavy spring runoff. At 1065 feet the reservoir contains 28,000 acre-feet of storage and a surface area of 889 acres and has about 18 miles of shoreline. The maximum depth of the lake is about 120 feet, and the average depth is about 38 feet. Yet many a boater has found to his chagrin, that there are areas where sandbars, stone walls, and boulders can be found just 6 inches under the surface. Another propeller lost!
The Department of Environmental Conservation has stocked Swinging Bridge Lake with fish periodically. There are many varieties of fish found in the lake, such as trout, bass, pickerel, blue gill, carp perch, catfish, walleye, large mouth bass, and crappies. Please do not release any fish caught in another lake into Swinging Bridge Lake.
The area surrounding Swinging Bridge Lake is teeming with wildlife. You can always spot deer, whole families of turkeys, turkey buzzards, fox, rabbits, a great variety of songbirds, blue herons, black bears, even beaver have been spotted swimming along the edge of the lake. But foremost, Swinging Bridge Reservoir has become nesting grounds for the American bald eagle and it is a sight to behold, watching these majestic birds soaring the skies over the lake. Because of these beautiful eagles, the entire area below the Swinging Bridge embankment is a designated a Bald Eagle habitat. Recreational use of this area is administered by the NYS Department of Environmental Conservation.