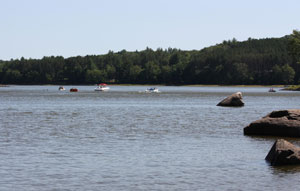 Swinging Bridge Reservoir currently allows motorized boats and personal watercraft, and all persons operating boats and personal watercraft are bound by the Town of Thompson Boating Regulations that were initially adopted in 1996. Those regulations are listed below. New laws and regulations will be posted here and they supercede regulations listed below.
It's now the LAW: No owner or operator of a pleasure vessel less than twenty-one feet, including rowboats, canoes, and kayaks shall permit its operation between November 1st and May 1st, unless each person on board such vessel is wearing a securely fastened United States Coast Guard approved, wearable, personal flotation device of an appropriate size when such vessel is underway. Failure to wear a lifejacket on such vessels will be considered a violation under Section 73-c of the Navigation Law and is punishable by a fine of not less than $100 nor more than $250, applicable to either the operator and/or the owner of the vessel.
New Law Effective May 1st 2014
All individuals born on or after 5/1/96 are now required to successfully complete an approved course in boater education in order to operate a motorboat. Approved courses include those offered by NYS Parks, the U.S. Coast Guard AuxiliaryLeaving New York State Parks or the U.S. Power SquadronLeaving New York State Parks. Individuals less than 10 years of age may not take this course of instruction. Certain allowances to this law have been made for visitors to New York, persons renting a boat from a livery and persons purchasing a new boat for the first time.
---
Swinging Bridge Reservoir
Town of Thompson

BOATING REGULATIONS
28.1 DEFINTIONS
As used in this chapter, the following terms have the definitions hereinafter given them:
PERSONAL WATERCRAFT: Any motorized craft, sat or stood upon, such as jet-skis, wave-runners, sea-dos with the capability to transport one (1) or more individuals across water at a high rate of speed.
PUBLIC WATERWAYS: Any body of water, including but not limited to lakes, ponds, streams, rivers, or brooks, which shall be wholly located within the boundaries of or adjoin the Town of Thompson.
WATERSKIING: Anything with a rider (water skis, surfboards, knee boards, wake boards, discs, tubes or hydrofoils) being towed behind a powered vessel by means of a towrope or towline, except another vessel.
28.2 RESTRICTED ACTIVITIES
A. Waterskiing
1) All operators of power vessels towing ski or aquaplane riders must:
 a) Keep at least one hundred (100) feet from shore, pier, bridge structure, abutment, other vessels or other persons in the water.

b) Have an observer at least ten (10) years of age on board (mirrors not accepted).

 c) Have a towline not exceeding seventy-five (75) feet in length.
2) No waterskiing or aquaplaning shall be permitted after sunset or before sunrise or during times of restricted visibility.
3) All skiers shall wear a United States Coast Guard approved Type I, II, III or Type V Hybrid Personal Floatation Device.
B) Personal Watercraft
1) All operators of personal watercraft shall:
a) Not operate said apparatus in such a manner so as to become airborne or completely leave the water while crossing the wake of another vessel (wake-jumping).

b) Not operate at a speed which is unreasonable or unsafe nor in a manner which is unreasonable or unsafe (at all times reasonable and prudent) nor in a manner which is unreasonable or hazardous to public safety with due regard to visibility, traffic density, state of wind, water and current proximity of other craft, operators and water users and proximity of navigational hazards.

c) Not tow any water-skier, raft or other non-motorized vehicle, unless the personal watercraft accommodates an observer/spotter to be on board and one is present.

d) Except when leaving or arriving at a docking area or pier, keep at least one hundred (100) feet from any marina, bridge, structure, dock, raft, float or other vessels, however, personal watercraft may travel together in a safe and reasonable fashion.

e) Keep at least three hundred (300) feet from swimmers or public and private beaches.

f) On leaving or arriving at a marina, private dock or shoreline, within one hundred (100) feet thereof, operate the personal watercraft at a speed no greater than five miles per hour (5 mph), without creating a wake, in a line which is perpendicular to the destination when arriving and from the point of departure when leaving.
2) No personal watercraft operation shall be allowed after sunset or before sunrise or during times of restricted visibility.
3) All operators of personal watercraft shall wear a United States Coast Guard approved Type I, II, III, or Type V Hybrid Personal Floatation Device.
4) Each personal watercraft must be operated in the manner for which it was designed.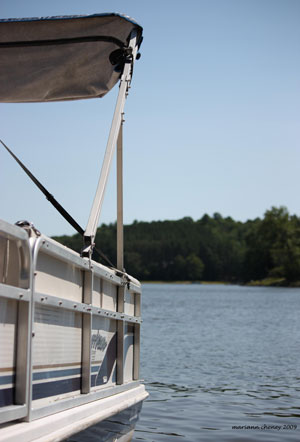 C. Operation of any watercraft.
No person shall operate or permit another to operate:
1) Any watercraft while under the influence of an intoxicating liquor, a narcotic, hallucinogenic or habit-producing drug or with a blood alcohol concentration exceeding the state motor vehicle law standards.

2) Any watercraft at a speed so that it cannot take proper and effective action to avoid collision and be stopped within a distance appropriate to the prevailing circumstances and conditions.

3) Any watercraft transporting or containing on board any narcotic, hallucinogenic or illegal drug.
28.3 MUFFLERS REQUIRED FOR POWERBOATS.

No person shall operate any boat or personal watercraft propelled by an engine burning any fuel used in an internal -combustion engine upon waters within or bounding the Town of Thompson without having the exhaust of said engine or motor muffled by a muffler system designed by its manufacturer or its equivalent.
28.4 LAUNCHING OR MOORING OF BOATS.

No person shall launch, beach or moor any boat within or bounding the Town of Thompson, except at such place or places as may have been designated for those purposes.
28.5 PERSONAL WATERCRAFT BUSINESSES.
a) All personal watercraft owned by personal watercraft rental businesses shall be marked by the owner thereof with an easily visible number or color, as directed by the Town of Thompson, which marking shall identify the owner of the rental business which owns such personal watercraft.

b) No personal watercraft shall be rented to a person who is less than sixteen (16) years of age unless such would-be renter is accompanied by a parent or legal guardian. The owner of such rental business shall obtain identification from the would-be renter in the form of a driver's license or other alternate form of identification containing the name and address of the would-be renter. The license or alternate form of identification shall be held as a deposit by the owner of the rental business until the return of the personal watercraft to the owner. Each owner of such rental business shall maintain a daily log of all rentals made by the rental business.

c) Personal watercraft shall not be rented between the hours of 7:00 p.m. and 10:00 a.m.

d) The owner of each rental business shall instruct their renters in the safe, prudent and legal operation of the personal watercraft and the manner in which it is to be operated in accordance with manufacturer's instructions and design. Failure to so instruct each renter of said requirements shall subject the owner of a rental business failing to instruct such renter to a violation of this chapter.

e) Each rental business owner shall have a patrol boat available at all times.

f) The owner of each rental business shall obtain the signed consent of the parent or legal guardian of any operator of the age of sixteen (16) or seventeen (17), which assumed the responsibility for the conduct of such operator in the use of the personal watercraft.
28.6 DUMPING OF WASTE PROHIBITED
In the interests of the public health, the prevention of disease, the elimination of pollution and the exclusion of contamination of the water, and in order to protect and safeguard the sanitation of bathing as well as the general health of the citizens, residents and visitors of the Town of Thompson, no person shall dump or discard garbage, food, waste, offal or any other waste, refuse or sewage materials into any of said waters.
28.7 RULES AND REGULATIONS.
The Town Board of the Town of Thompson reserves the right to adopt rules and regulations governing the operation of waterways within the town as may be deemed necessary from time to time.
28.8 PENALTIES FOR OFFENSES.
Any violation of this chapter shall be penalized as set forth in the Town of Thompson Code, Chapter 1, Art. II & 1-14. Each separate violation shall be treated as such, and each day's persistence in things or acts prohibited by this chapter shall be and constitute a separate and distinct offense subject to any and all penalties prescribed in this chapter.

---
Prevent the spread of aquatic invasive species in New York
Boats, trailers, waders and other fishing and boating equipment can spread aquatic invasive species from waterbody to waterbody unless properly cleaned, dried or disinfected after use. Although some invasive species such as water milfoil are readily visible to the human eye, many others are too small to be readily noticed. To avoid spreading invasive species please follow the guidelines in the following steps:
Check
Clean
Drain
Dry
Disinfect
Northern Snakehead Fish
The northern snakehead is an invasive fish native to China, Russia and Korea. Other snakehead species are native to parts of Asia and Africa. Two populations of this air-breathing predator have been identified in New York State; one in two connected ponds in Queens, NYC and one in Ridgebury Lake in the Town of Wawayanda, Orange County. While the Queens population is confined, the Ridgebury population, situated in the Wallkill River drainage, has the potential to infest the entire Hudson River drainage and beyond to the Great Lakes and continental US. DEC plans to eradicate the Ridgebury population using rotenone.
IF YOU HAPPEN TO CATCH A NORTHERN SNAKEHEAD: REPORT any caught or observed snakehead to DEC's regional fisheries office.
If you catch one, DO NOT RELEASE IT. Kill it immediately, freeze it and report your catch. Take a digital photo if possible. Report to: NYSDEC, Fish, Wildlife & Marine Resources, Office of Invasive Species Coordination, 625 Broadway, Albany, NY 12233-4750, 518-402-8924.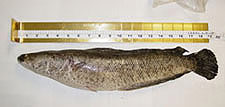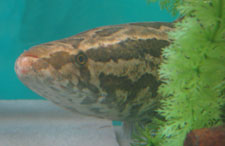 What do Northern Snakeheads Look Like?
Tan to pale brown with dark brown blotches on sides and saddle-like markings on back, an elongated body with long dorsal and anal fins, many sharp teeth, a large mouth reaching far behind the eyes, and may be confused with bowfin which has a short anal fin, small teeth and often a black spot at base of tail.