Welcome to the official Swinging Bridge Property Owners Association web site
The Swinging Bridge Property Owners Association (SBPOA) seeks to continually improve the quality of life within our community by protecting the environment and water quality of Swinging Bridge Lake. Our Mission Statement reads: To protect and improve the quality of life within the Swinging Bridge community by promoting civic pride in home development and ownership, developing sound civic policies, protecting the lake environment, and maintaining positive communication with the local and state governing bodies.
Our organization is also concerned with water quality of the lake, optimal water levels for recreation, and zoning issues that could affect the overall quality of life around the lake. We educate our members regarding lake ownership, lake edge property lines, dock building permit procedures, water level fluctuation notices, information on safe boating practices, and new boating laws and guidelines, and more. All property owners on or near Swinging Bridge Lake are invited to join the SBPOA. Click HERE for membership info.
Swinging Bridge Lake is located near Monticello, New York, in Mongaup Valley. This picturesque reservoir is nine miles long and ideal for boating, fishing, swimming and other water activities. A dam at the southern end of the lake generates hydroelectric power for the lake's owner, Eagle Creek Renewable Energy.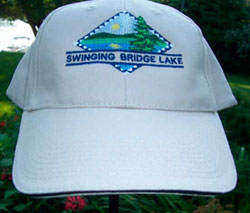 Show Your Lake Pride
We still have some of the heavy cotton caps available for $7. These are high quality caps with an embroidered "Swinging Bridge Lake" logo (not a patch). If interested, we will have a supply available at the next Annual Meeting OR you can email us and arrange to pick up.
Take precautions about bears!
From spring to fall, bears have been known to be in and around the Swinging Bridge Lake area. This young black bear (below) saw a bird feeder on a homeowner's deck and even climbed the stairs to reach it. PLEASE do not leave garbage outside except in secure garbage bins for the shortest time possible on trash pickup days! The bears learn quickly where to find food and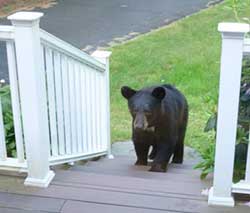 will keep coming back as long as a food source is available. Bears will choose an easy meal like bird seed, sunflower seeds -- or garbage -- over foraging for berries, etc. Remember, bears are WILD animals and are potentially dangerous. Never feed the wildlife, including deer. If you are out walking with your pets, keep them on a leash for their safety. And it might be wise to bring a loud whistle and a walking stick, just in case you encounter a bear. :-)